SELECTED MEDIA COVERAGE since November 2016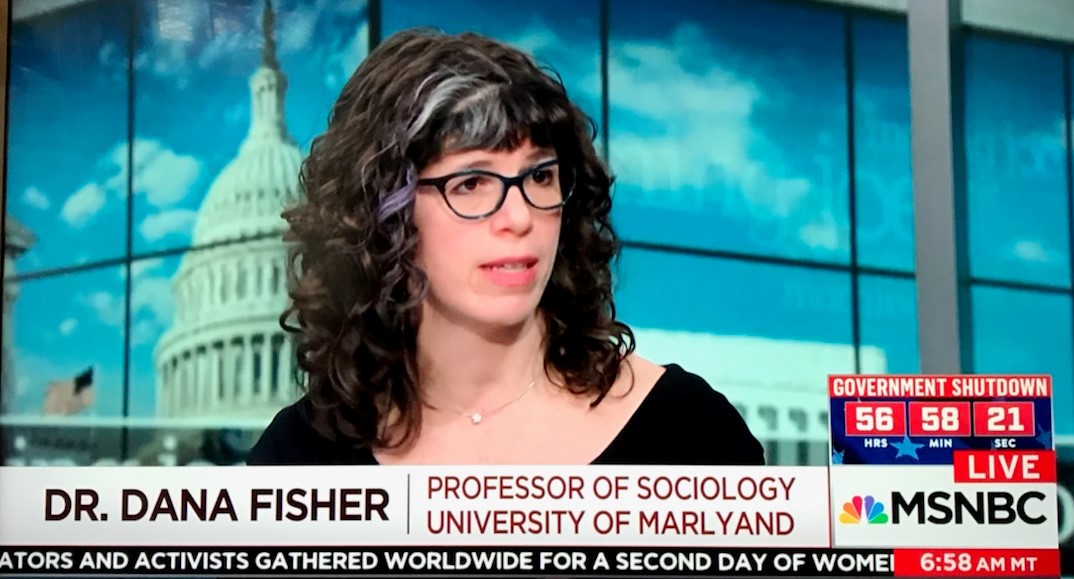 PIECES WRITTEN BY Dana R. Fisher:
Washington Post:
The Youth Climate Summit starts July 12. It's full of young activists trained in the anti-Trump movement.
This year's Women's Marchers weren't focused on the leadership controversy. They were all about local and national political organizing.
Here's why the protests against Kavanaugh (and the Trump administration) won't go away.
Who came out in the brutal heat to the 'Families Belong Together' march? Here's our data.
Here's who actually attended March for Our Lives. (No, it wasn't mostly young people
The American Prospect:
Will Scientists Gear Up for Activism in the Age of Trump? (with Scott Frickel)
Huffington Post 11/9/16:
http://www.huffingtonpost.com/entry/waking-up-in-trumps-america-watching-the-ocean-rise_us_58235516e4b044f827a79614
The Society Pages, 2/6/17:
https://thesocietypages.org/socimages/2017/02/06/this-is-what-democracy-looks-like/
The Conversation, 5/31/17:
https://theconversation.com/the-demographics-of-the-resistance-77292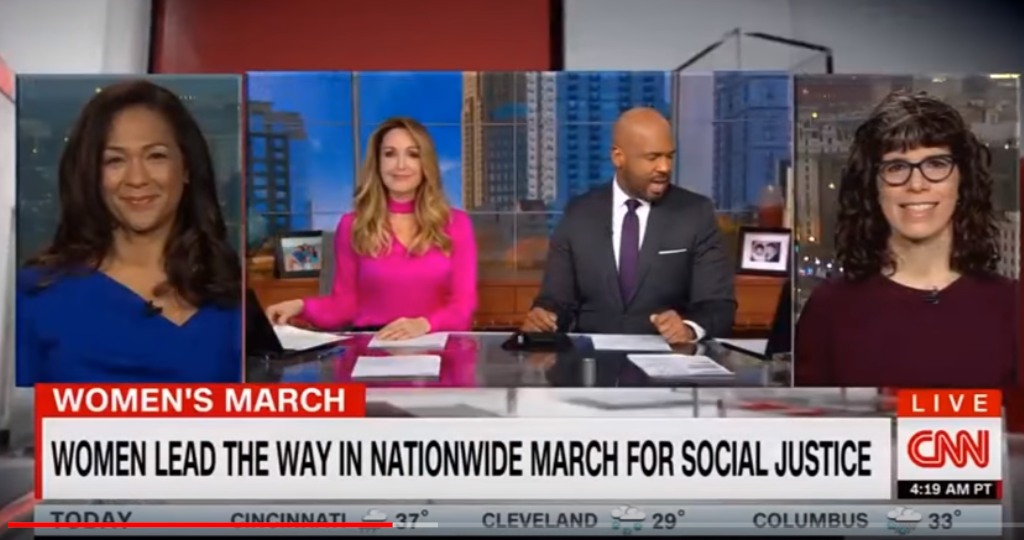 VIDEO INTERVIEWS:
CNN New Day, 1/19/19
Women Lead the Way in Nationwide March
Morning Joe, 3/26/18
http://www.msnbc.com/morning-joe/watch/breaking-down-the-numbers-of-march-for-our-lives-1195059779546
Morning Joe, 1/22/18
http://www.msnbc.com/morning-joe/watch/data-tracking-resistance-shows-movement-s-growth-1142623299946
Thom Hartmann Program, 1/23/18
https://www.thomhartmann.com/bigpicture/why-resistance-more-important-ever-wguest-dana-fisher
Looking back on a year of resisting Trump, ThinkProgress, 12/22/17
https://thinkprogress.org/a-year-of-resisting-trump-57adf89da878/
POTUS 2017 with Brian Lehrer, 8/31/17
https://www.youtube.com/watch?v=WagD1uInFN4#t=18m34.5s
Fox 5NYC, 3/7/17
http://www.fox5ny.com/news/240149568-story
RADIO INTERVIEWS:
BBC World Service The Real Story: Do Protests Still Work 7/13/18:
https://www.bbc.co.uk/programmes/w3cswkdc
The Takeaway 1/22/18:
https://www.wnycstudios.org/story/civic-engagement-and-womens-march/
NPR To the Point, 1/23/17:
https://www.kcrw.com/news-culture/shows/to-the-point/the-future-of-activism-in-the-trump-era
NPR Morning Edition, 3/3/17:
http://www.npr.org/2017/03/03/518261347/on-both-left-and-right-trump-is-driving-new-political-engagement
NPR Marketplace, 8/11/17:
http://keranews.org/post/08112017-taking-moral-stand-good-business
BBC's Good Morning Wales, 10/6/17:
http://www.bbc.co.uk/programmes/b096s2qb#play
PROFILES OF FISHER'S WORK:
NY Review of Books:
http://www.nybooks.com/daily/2017/11/09/year-one-resistance-research/
Science Magazine:
http://www.sciencemag.org/news/2017/04/rain-doesn-t-stop-researchers-doing-science-march
http://www.sciencemag.org/news/2017/04/examine-thyself-researchers-set-study-march-science
Washington Post
https://www.washingtonpost.com/news/speaking-of-science/wp/2017/05/03/a-scientist-who-studies-protest-says-the-resistance-isnt-slowing-down/?utm_term=.e8f0eeae15b8
SELECTED PRINT/ONLINE MEDIA MENTIONS:
ABC
https://abcnews.go.com/Politics/2020-candidates-face-challenges-championing-99/story?id=64250058
https://abcnews.go.com/Politics/gov-jay-inslee-unveils-sweeping-initiative-combat-climate/story?id=62768393
BBC
http://www.bbc.com/news/world-us-canada-43119205?ocid=socialflow_facebook&ns_mchannel=social&ns_campaign=bbcnews&ns_source=facebook
Chicago Tribune
https://www.chicagotribune.com/news/local/breaking/ct-met-womens-march-chicago-global-march-womens-wave-20181225-story.html
CNN
https://www.cnn.com/2019/01/17/us/womens-march-2019/
http://money.cnn.com/2017/02/09/technology/online-tools-trump-resistance/
http://money.cnn.com/2017/02/17/technology/womens-march-facebook-activism/
Elle:
http://www.elle.com/culture/a15855944/womens-march-2018-media-attention-coverage/
New York Magazine:
https://www.thecut.com/2018/10/women-and-power-womens-march.html
http://nymag.com/scienceofus/2016/11/how-should-trump-protesters-organize-themselves.html
http://nymag.com/scienceofus/2017/02/3-things-sociologists-learned-by-studying-the-womens-march.html 2/7/17
http://nymag.com/daily/intelligencer/2017/08/the-careful-pragmatic-case-against-punching-nazis.html
New York Times:
https://www.nytimes.com/2018/12/14/opinion/sunday/yellow-vest-protests-climate.html
Newsweek:
http://www.newsweek.com/trump-protesters-washington-poll-approval-rating-633570
Time Magazine:
http://time.com/4835791/senate-health-bill-activists-parents-sick-kids/
USA Today:
https://www.usatoday.com/story/news/2019/05/06/generation-z-poised-change-us-politics-climate-change-activism/1090104001/
https://www.usatoday.com/story/news/2019/01/18/womens-march-2019-third-annual-march-faces-stiff-headwinds/2605361002/
https://www.usatoday.com/story/news/2019/01/15/womens-march-dnc-out-sponsor-amid-controversy-over-anti-semitism/2586665002/
Wall Street Journal:
https://www.wsj.com/articles/one-year-after-womens-march-organizers-hope-to-get-out-pink-hats-again-1516302897
Washington Post:
https://www.washingtonpost.com/local/the-womens-march-drew-more-moderates-in-its-third-year-why-its-all-trump-researchers-say/2019/01/25/d1f4c356-202d-11e9-8e21-59a09ff1e2a1_story.html?utm_term=.e916dcb8c5cb
https://www.washingtonpost.com/local/the-womens-march-in-year-3-can-the-movement-overcome-a-year-of-controversy-and-division/2019/01/17/0eb23740-18c9-11e9-8813-cb9dec761e73_story.html?utm_term=.d816647525e3
https://www.washingtonpost.com/local/the-womens-march-rolls-out-a-political-platform-before-its-third-washington-rally/2018/12/14/646d0f7c-ff13-11e8-862a-b6a6f3ce8199_story.html?noredirect=on&utm_term=.3f9cf749c74f
https://www.washingtonpost.com/local/the-womens-march-needs-passion-and-purpose-not-pink-pussycat-hats/2017/01/11/6d7e75be-d842-11e6-9a36-1d296534b31e_story.html?utm_term=.bb7bf5953f62
https://www.washingtonpost.com/national/small-town-activists-fueled-by-the-womens-march-take-aim-at-midterm-elections/2018/01/19/c01c8baa-fa45-11e7-a46b-a3614530bd87_story.html?tid=ss_tw&utm_term=.94e1773e1376
Vox:
http://www.vox.com/policy-and-politics/2017/1/31/14430584/protest-trump-strategies-experts
http://www.vox.com/policy-and-politics/2017/2/2/14438382/protest-trump-resist-womens-march
http://www.vox.com/identities/2017/2/23/14714236/kellyanne-conway-cpac-women-in-power-feminism
http://www.vox.com/identities/2017/3/3/14721468/international-womens-day-strike-a-day-without-a-woman-march-8
Associated Press:
https://www.usnews.com/news/business/articles/2016-11-09/trump-win-raises-questions-about-us-pledge-in-climate-deal
http://www.nytimes.com/aponline/2017/01/26/us/politics/ap-us-womens-march-survey.html
Reuters:
http://www.reuters.com/article/us-usa-trump-protest-idUSKBN16316T
Christian Science Monitor:
http://www.csmonitor.com/Environment/2017/0203/March-for-Science-Can-scientists-really-change-the-conversation?cmpid=pushEP
http://www.csmonitor.com/USA/Politics/2017/0204/How-Elon-Musk-is-working-to-roll-back-Trump-s-temporary-travel-ban
http://www.csmonitor.com/USA/Politics/2017/0301/Tea-party-s-bid-to-make-the-establishment-great-again
POPsugar:
http://www.popsugar.com/news/Do-Protests-Work-43145782